Alabaster Stones
April 25, 2017. I open my long unused art journal, determined to create a daily mandala in my ongoing attempts to heal erythromelalgia
A week later, my art journal and I had our first appointment with Jean Tait, an art therapist whose canvas, Guardian in Red, had caught my eye earlier that spring at Radke Radnicki's office. Radke is a good friend and a naturopath; I was hopeful about homeopathic relief for my rare blood disease. I show Jean my mandala. Within seconds she has a Native American symbols book open … the frog as a symbol of transformation. Tadpole. Bridging land and water. Living in two worlds. I look at my mandala and there She sits with her distended feet. I am the tadpole. I am transforming. I am also oblivious.
May 17 – 20, 2017. I attend an expressive arts conference in Stonington, Connecticut. Seeing Red in Turbulent Times. I joined Seeing Red in 2016, desperately seeking people of like mind as I studied and worked with dreams and inner healing. We 'meet' once a week through Zoom. One week, we listen to a lecture from a staff member about women and the emerging feminine energy across the planet. We study women and film. The questions are deep and searing. "Where do we silence ourselves?" "Where are we silenced?" "What is the role of women in religion, politics, education and the creative arts?"
"Where will we women stand up for the oppressed and the repressed?" The week following the lecture, we Zoom together again with full participation in questions and searching deep within ourselves and the worlds we live in. I am the only woman from Alberta. One of two from Canada. Within Seeing Red, I find a home for my everlasting curiosity. In that group no one ever says, "You read too much," or "You think too much."
There were five leaders at the Seeing Red Conference that spring. One, a Jewish woman in exile, a Jungian analyst, a sculptress, and a dancer. When I meet Sylvia, I immediately realize my healing connection to Egypt, slavery and the Jews in Exile. Molestation had exiled me from my soul.
Another is an illustrator, artist and oncologist. She has shifted her art focus to work with women and breast cancer. Yet another is a budding artist trying to gain a foothold with her work while a fourth is a Jungian analyst and writer with a focu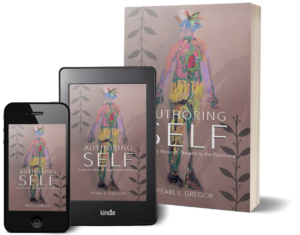 s on identity. The last of the group of five is the founder of Seeing Red, a dancer, theologian and scholar. Think about the power of creativity in that group. It could be a story. Two artists, a writer, a dancer and a sculptress went into a pub …
The first afternoon we gathered outside in the wavy, deep Connecticut sunshine, our symbolic Red Tent in the background. Perhaps you are familiar with Dinah of The Red Tent? After a ceremonial introduction, each woman in the circle is invited to choose the stone that speaks to her from the circle.
To be continued … The Frog and the Pieta and fabric art that becomes the cover of Authoring Self: Journey through Dreams to the Feminine.