The Frog and the Pieta
That afternoon, Silvia, the sculptress, will teach us how to carve stone. I hesitate. Then pick a stone.
"You really don't want that stone, do you?"
"No, not really."
"Then which one is speaking to you?"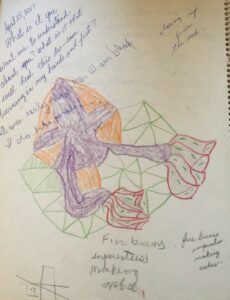 I point, "That one. That's the one actually calling or rather shouting to me from Her seat in the grass. What kind of stone is this?"
"Alabaster."
I have never before done this kind of work. Throughout that afternoon of sculpture, I go somewhere deep and quiet. The world flows through old dreams (1991), my creative self and a mysterious inner world. With Silvia's gentle, unobtrusive tutelage, out of that alabaster and through my hands emerged images of the Pieta and the Frog. A dual symbol of transformation. I resisted. They persisted. The next day, with Sandra, expressive artist extraordinaire, I watched my mandala shadow feet come out in colored strings of red and black, filaments of bric-a-brac lace right up my legs into my guts. In dance and pantomimes of pain, my child released some tortured frozen ligaments of pain. Thawed and wept. Later, in creative dance and story, Silvia caught my soul.
(see images and insert from pictures e:drive/book files at home)
For about ten days, I am free of the burning, itching, red swelling. Two years later, my feet are still far better under the watchful gaze of the Pieta Frog who holds my hope for complete healing. I continue my inner work.
In the spring        2018, I smile at my medical doctor. "Hang with me, Don.
You can write the paper on soul healing!"
He's a good guy; played hockey with my eldest 30 years ago. He smiled and nodded. "Somehow, I won't be real surprised."
Background
Even in 2018, my hands still speak loudly with arthritis and Raynauds phenomenon. My feet with erythromelalgia, a rare blood disease occurring in .25% of 100,000 population. No known cause. No known cure. In December 2018, a young, newly minted patriarchal medical establishment doctor smiles dismissively. "Never heard of erythromelalgia. What is that?" he says. I consult a nephew, newly graduated from a US medical school. "Never studied that."
I get it. It's pretty tough to replicate a study of a soul dis-ease. Only one alternative medical doctor suggests a possible cause—repressed trauma. In my case, the vestigial remnants of preverbal childhood molestation and the never-ending years of screaming nightmares, chronic body pain and clinical depression left nerve and capillary endings in the extremities malfunctioning. At age 43, desperate and suicidal, I sought meditation, dream work and mysticism. The resulting transcendent energy experiences healed the depression. Since 1988 I have been on a personal healing mission through bibliotherapy, writing, dream work, and every possible kind of bodywork. I learned as much as possible about the theories of Jung, transpersonal psychology and psychosynthesis. In 2014, after a series of mildly debilitating mini-strokes, I followed the instructions of my soul voice and began to seriously write the story of dreams along the way. I opened up my first 1988 journal and begin writing memoir. I had used dreams in my 2008 doctoral work. But now the always present low-level pain and burning in legs and feet became intense and chronic accompanied by various other 'interesting'  symptoms. My life experience has left me deeply distrustful of experts. As much as possible, I am my own physician. I diagnosed the cause and am working on the cure which includes all forms of the expressive arts. I have zero experience. The body knows. The psyche cares. Through Seeing Red, I find Jill Hayes who writes, "The notion that we must leave the body in order to connect with soul and spirit [must be] challenged and re-visioned [through our dreams and by dance]. In fact we become more soulful as we move deeper into and creatively dance our connection with body.  Our entire life history – personal, familial, cultural and collective – is contained within our bodies. Lifetimes of body memories. The body is our home; it makes sense that any exploration and re-patterning of our lives must go through, and be felt by, the body. Movement is an art, a muse, a medicine and a common language that can be a powerful and effective means for exploring, expressing and transforming our human condition. Dancealchemically changes the dancer, revealing habitual ways of being, and elevating what is subconscious or unconscious into higher states of awareness and expression. Movement is transpersonal; it expresses an individual mythology while connecting us to larger human narratives and myths" (Hayes, 2013, preface).
Hayes, Jill. Soul and Spirit in Dance Movement Psychotherapy: A Transpersonal Approach. Jessica Kingsley Publishers, London: 2013.