Curanderismo The Healing Art of Mexico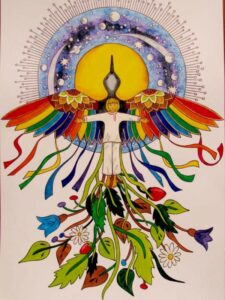 "We are caught in an inescapable network of mutuality, tied in a single garment of destiny.
Whatever affects one directly affects all indirectly.'
We are tied to Ethiopia.
We are tied to Ukraine,
We are tied to Yemen.'
__Bernice King

May everyone's heartfelt prayers bring comfort and swift help to all harmed by violence, and,
May peace flower in the hearts of all beings on Mother Earth.
For ll Our Relations.
__Maestra Grace
Artist: At for Peace by 15-year-old Irina M., Ukraine
International Women's Day Celebration mARCH 08, 2022
6:00 – 6:45 PM MST via Zoom
We will gather in Circle again this year. We gather with deep intentionality and prayers for the Ukraine and Russia. If you wish to participate in this Intentionality and Prayer Call then please fill in the registration form at the bottom of this post.
NOTE: Following International Women's Day, I would encourage you to participate in 8 days of intentionality to bring immediate peace to the Ukraine and to the Russian people who are being commandeered into war.  As we all know, war requires an aggressor. The leaders seldom participate preferring to stay safely on the sidelines. The Divine Feminine is emerging amid the prolonged and very difficult, painful pangs of birth. For as C Jung told us decades ago, even before Gimbutas and even before the world of Quantum Physics, and long before it became widely talked of "There is no coming to consciousness without pain."
You are invited to participate in our Intentional Circle and to make a donation as you wish using one of the following sites or another of your own choosing.  Personally, I plan to donate to the matching Canadian dollars fund.
https://www.canada.ca/en/global-affairs/news/2022/02/canada-to-match-up-to-10-million-in-donations-from-canadians-in-response-to-humanitarian-crisis-in-ukraine.html
Join me and dozens of friends and dreamers on MARCH 8, 2022 at 6:00 – 6:45 PM MST to share a deeply purposeful meditation, a prayer of intentionality and to ask for the intensified presence of the Christ, angels, saints and guides to wrap our brothers and sisters in the Ukraine in blankets of love and deep peace. We pray that the power of forgiveness, compassion and love fill all those touched by any aspect of this War. For we know that war has no sides. A Mother loves all her children even the warring ones and so, we pray for all the leaders, the soldiers and those who are trapped by a belief of patriotic zeal.
And we pray also that the Russian leader, Vladimir Putin be touched by and overcome by his own inner Christ Divine Self, that divine love within all and that in this moment he may come to know the power of love to change the fear to love in his inner world for if there was ever a time for love to heal all, we intend together with our own Inner Christ divine Self to know that this is the perfect right time. We intend healing for All. For One. To be All One. We know that our intention to heal All heals All.
And we pray that the power of the Divine Feminine, Black Madonna, the Mother present to her children in their many trials and sorrows, be present now to the children of Kyiv. For it is the icon of the Black Madonna that came to Kyiv in about 1311. From Kyiv the icon was taken to Vladimir. After 1395 the icon was taken to Moscow where she has escaped many fires and Tartar attacks and been involved in many miraculous interventions. This beautiful icon was a gift to me from a delightfully dedicated and irreverent Catholic priest, Father John Rich, after a visit to the Maryknoll Center in New York 1991. While there I learned about and witnessed the horror of the children of Central America suffering the aftermath of attack from the CIA in their own huts and homes. Youngsters less than 10 years old wide-eyes with fear and horror at seeing their parents or caregivers murdered before their very eyes. We ask the Theotokus, Mother of God, to protect the children with blankets of love. And we know that whatever name the Mother Love may be in your world is the name that She responds to. She hears no matter the language, the ethnicity or the belief.
And so we ask and we set our heart intention together with those intentions of the Black Madonna that She will be present to her threatened children and her Children will know her loving presence. That she will bring her deep love energy together with Her great Mother love to heal the hearts and minds of all those wishing to control or harm the people of a sovereign Ukraine or a sovereign Russia.
Reference: Untie the Strong Woman, Clarissa Pinkola Estes.
#PeaceforUkraine #AllOurRelations #interconnected